Using Tag-Connect Plug-of-Nails™ Cables with Altera Byte Blaster, USB Blaster and Ethernet Blaster.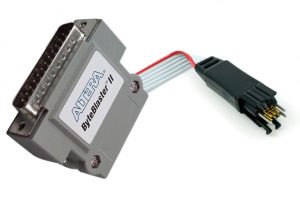 Tag-Connect 10-pin TC2050-IDC or TC2050-IDC-NL cables are compatible with the various Altera Byte Blaster programmers and download cables. For a smaller PCB footprint you can also choose our 6-pin TC2030-ALT or TC2030-ALT-NL cables which have a 10-pin ribbon cable and IDC connector that plugs into the ByteBlaster and a 6-pin TC2030 or TC2030-NL footprint at the other end.
Open the case of the Byte Blaster (if applicable) and simply unplug the existing 10-pin ribbon cable and replace with your Tag-Connect cable.
Note that some but not all of the older parrallel-port Byte Blasters unfortunately have 10-pin ribbon cables hard soldered to the internal PCB. Open the case to see if your Parrallel-Port Byte Blaster has a removable ribbon cable or if the cable is hard soldered. At the worst, fit an inline 10-pin male IDC connector to the Byte Blaster cable and plug in your TC2050).
You can find the data sheets here:
"Legged" cables hold themselves in place.  "No-Legs" cables can be held in place by hand or use with the TC2030-CLIP board or TC2050-CLIP for a hands-free connection.

Solutions using 6 Pin Target Connector
Solutions
Solutions using 10 Pin Target Connector
Solutions