Using Tag-Connect with Segger J-LINK Debuggers
J-LINK is a USB powered JTAG emulator supporting a large number of CPU cores. This also applies to similar debuggers that support the traditional ARM 20-pin 0.1″ connection.
Tag-Connect™ replacement debug/programming cables save cost and space on every board!
We offer two solutions for using Tag-Connect Plug-of-Nails(tm) cables with J-LINK debugger:
1. Full traditional JTAG using our TC2050-ARM2010 adapter TC2050-IDC 10-pin Plug-of-Nails(tm) cables. This is compatible with all ARM processors.
2. A smaller footprint solution for Cortex processors using the SWD (Serial Wire Debug) JTAG interface  ARM20-CTX and the TC2030-IDC cable.
Both solutions are similar in that they use a 20-pin to Tag-Connect adapter. However, the Full Traditional JTAG also allows you to optionally power the target from the debugger and provides access to all of the signals provided by the traditional 20-pin ARM 0.1″ connection whereas the SWD (Serial Wire Debug) solution only supplies access to the signals used by the SWD protocol.


Full Traditional JTAG using TC2050 and TC2050-ARM2010 adapter
The above picture shows the Segger J-LINK(tm) programmer, the TC2050-ARM2010 adapter and our TC2050-IDC legged Plug-of-Nails(tm) cable. The adapter also works with the TC2050-IDC-NL (No Legs) cable.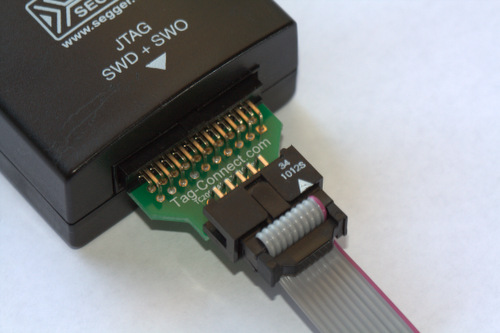 Connect the TC2050-ARM2010 to the J-LINK and connect the TC2050-IDC cable to the adapter.
Both "legged" and "no-legs" cables come in the standard 8″ cable length.
The TC2050-IDC-NL "no legs" cable will require the TC2050-CLIP if you require a hands-free solution while debugging.
Check out the data sheets:
Solutions

ARM20-CTX Solution for Cortex Processors using SWD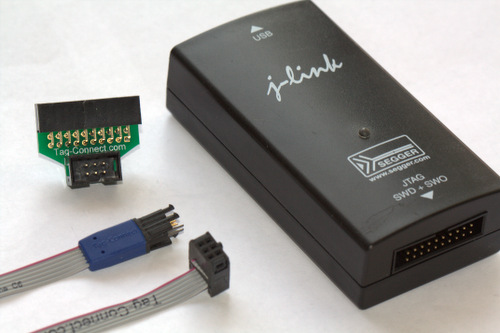 Connect the ARM20-CTX to the debugger.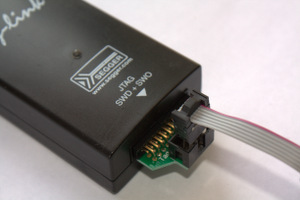 Attach the TC2030-IDC cable to the ARM20-CTX and you can begin debugging!
Both "legged" and "no-leg" cables come in the standard 6″ length.
The TC2030-IDC-NL will require the TC2030-CLIP if you want a hands-free solution while debugging.
Check out the data sheets: