TI XDS100v2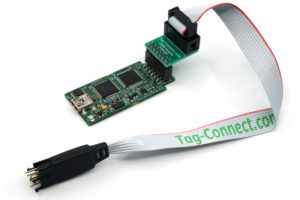 The picture above shows an XDS100v2 with our TC-C2000-M adapter and TC2050-IDC cable!. We also have Female versions of the adapter for use with other TI-14 debuggers and programmers.
Check out the datasheets:

The TC2050 comes in both "legged" and "no-leg" versions. For hands-free debugging, the TC2050-IDC-NL also requires the TC2050-CLIP to hold it in place.
Tag-Connect™ replacement debug/programming cables save cost and space on every board!
Solutions